【July 31, 2014, Kourou, CMSP News】Chinese delegation led by Deputy Director of China Manned Space Agency Wu Ping watched the launch of ATV-5 on July 29 (Local Time) from Kourou, French Guiana and visited Guiana Space Center at the invitation of Jean-Jacques Dordain, Director General of ESA.
On the morning of July 29 (Local Time), Wu Ping listened to the introduction to the mission by the organizers and visited facilities at the Guiana Space Center. On the evening, she and other Chinese delegates watched the whole process of ATV-5's launch at Jupiter Control Center.
Dordain extended warm welcome to the Chinese delegation led by Wu Ping. Wu Ping expressed congratulations on the success of the ATV-5 mission and showed thanks to Dordain for the invitation. Wu Ping also conveyed congratulations and greetings to Dordain from Wang Zhaoyao, Director of China Manned Space Agency.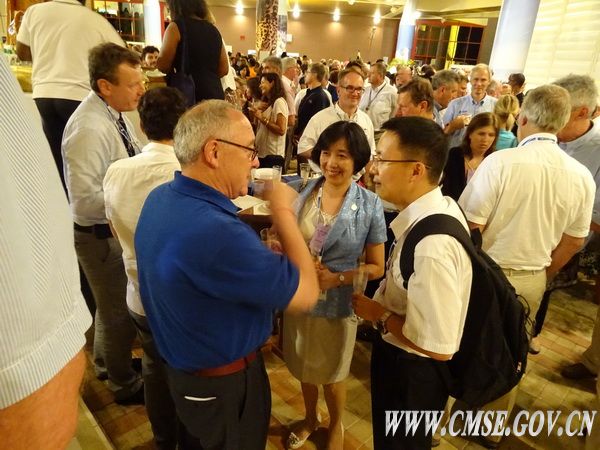 Figure: Wu Ping expressed congratulations to Dordain on the success of the ATV-5 mission
ATV-5, the European Space Agency's (ESA) fifth and final Automated Transfer Vehicle, is named after the 20th century Belgian astronomer, Georges Lemaitre, who first proposed the expansion of the universe. ATV-5 lifted off atop an Ariane 5 rocket from Kourou, French Guiana, at 8:47 p.m., July 29 (Local Time). One hour and four minutes after the lift-off, the upper stage of the rocket separated with ATV-5 and the spacecraft entered the orbit. The mission has achieved a great success. (By Yu Yanjuan)